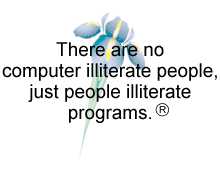 *Courtesy of IRIS, LLC on the NET*
After 25 years as a licensed Real Estate Broker, selling, training, teaching, managing and hand holding, which are still important, I have found my niche in the world of computers, software for productivity and the world wide web. TODAY, knowledge of what is coming and what is going to happen to the Real Estate business is the key to survival and future profits.
Whatever we did YESTERDAY - we will not be able to do TOMORROW. The means will try to repeat - but the results will be different!! If you are a Broker Owner or a Sales Manager/Team Leader and your Associates know more than you about technology, you are about to become extinct. But, if you do not want to be left behind, or be forced out of the real estate business by the technological tide that is at your doorstep, contact me at my e-mail address.
If you have a future in this business - it is at stake !!
Jack P. Best, RECS
jbestmls@hotmail.com
REAL ESTATE MEDIATORS
P.O. Box 1803
Lady Lake, Florida, 32158
United States
772.349.8328